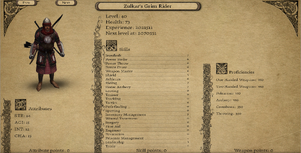 Trained personally by
Warlord Zulkar
to master the use of the bow and lance whilst ridding their
Jatu Warhorse
, these men are his most loyal troops, and they serve as his bodyguards.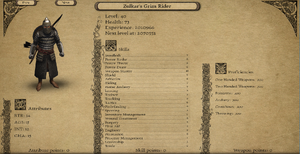 Equipped with a
Darkwood Bow
and
Jatu Arrows
, they shoot the enemy from afar. When the enemy gets to close they charge with their
Jatu Honor Lance
to then change to
Strange Ebony Sabre
with a shield. Their charges can perform couched lance damage, so the player should get over a hill to avoid their horses from getting enough speed to do these deadly charges.
They are only seen in Warlord Zulkar's army (50-150).
Changes from 3.8.4:
Numbers in Zulkar's army raised from 40-100 to 50-150
Proficiencies raised from 300 to 350
Light Lance changed to Jatu Honor Lance
Jatu Faceless Helm and Jatu Mask Helm changed for Jatu Cavalry Helmet