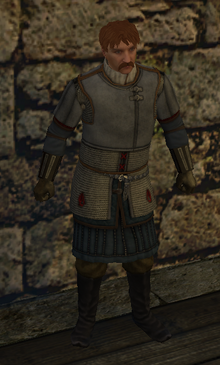 Quigfen is a Noldor representative residing in Laria. He offers 3 things:
For this option to be available first, the player must have positive relation with Noldor. Then, Quigfen will ask the player for a Qualis Gem, after this has been given to him, the shop will be free to access for the rest of the game (whilst positive relations with the Noldor are maintained).
The shop will offer 60 items, these being high quality items, always with a positive modifier, but this will as well increase the price. These items are always the same and will be a mixture of:
Noldor and Melitine Helmets, Armors & Boots
Noldor Horses
Noldor Bows, Swords and Shields
Knights of different KHO Armors
Unique Armors
For this option to be available first, the player must have positive relation with Noldor. Allows the player to recruit Noldor mercenaries for a Qualis Gem. Once you hand him the gem, he offers you a choice from two to five different Noldor troops.
TIP: If he doesn't offer the Noldor troops you're searching for, simply click on Quigfen's portrait, and then go back, and the choices are randomized again. Repeat as necessary. These are choices he can offer:
Next release 3.X
Edit
The player can offer Quigfen one Noldor Trade Goods as well as the Qualis Gem to get extra troops. Numbers increase to:
When your relations with the Noldor reach or surpass 15, he'll give you a special quest - Befriending the Noldor. Completing this quest will reward the player with 3,000 Denars and allow the player to see Elacrai when having at least 30 relation points with the Noldor.
Ad blocker interference detected!
Wikia is a free-to-use site that makes money from advertising. We have a modified experience for viewers using ad blockers

Wikia is not accessible if you've made further modifications. Remove the custom ad blocker rule(s) and the page will load as expected.