"If you run across the Ironsword Company, smile and pay what Kodan demands. You'll live longer that way."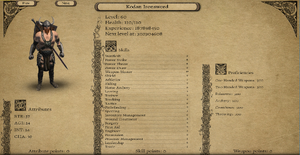 Kodan Ironsword
runs a mercenary company quite reminiscent of the Fierdsvain, and as such, is infamous around those parts for the usual mercenary reasons: his intense love of money.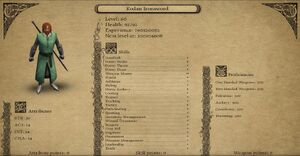 He is easily distinguishable in the battlefield as he is a mounted berserker, making him unique. He rides a
Ironbred Charger
. Equipped with a
Heavy Lance
with a solid shield, if dismounted or stuck and he is unable to move, he will change weapons to his deadly
Ruby Rune Two-handed Sword
. He may just not spawn in Pendor and act freely, he can also be hired as a Mercenary Company by 
Marius Imperator
,
King Gregory IV
 and 
King Ulric
.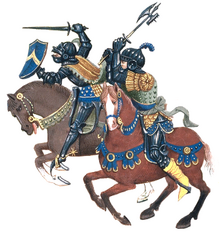 He can be captured and freed for a
Qualis Gem
or 100,000 denars. Kodan Ironsword can be captured. His mercenary company generally numbers 100-200 men, and consists of the following:
Note: Since 3.9.0:
Ad blocker interference detected!
Wikia is a free-to-use site that makes money from advertising. We have a modified experience for viewers using ad blockers

Wikia is not accessible if you've made further modifications. Remove the custom ad blocker rule(s) and the page will load as expected.