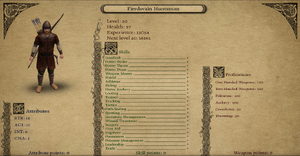 Fierdsvain soldiers who have decided they are suited to the bow have chosen to follow the archery path, something most Fierdsvain men look down upon as they place great emphasis on personal strength and valour causing them to engage heavily in melee combat. The first stage of the Fierdsvain archer line these inexperienced archers need to be upgraded as soon as possible for maximum effectiveness.
Ad blocker interference detected!
Wikia is a free-to-use site that makes money from advertising. We have a modified experience for viewers using ad blockers

Wikia is not accessible if you've made further modifications. Remove the custom ad blocker rule(s) and the page will load as expected.