You are not the only hero in Prophesy of Pendor. Across the lands, you may find characters in taverns who will be willing to aid you...for a price.
Companions are much more expensive in Pendor, often costing thousands of denars to hire (Sir Roland, the most expensive companion, costs 8000 denars). However, in most cases, companions are far more advanced than in Native and come with stronger equipment. For example, Lethaldiran is recruited at level 42 and comes with Noldor armor and a Noldor bow and arrows, with weapon proficiencies in the 400s.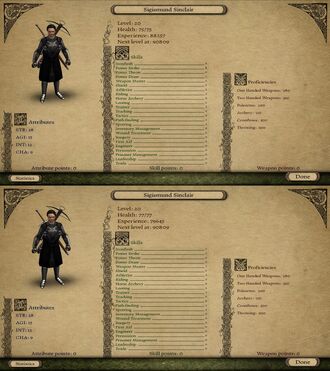 As of version 3.7, companions' starting skills and experience are slightly randomized per save file. Also, their starting levels have been lowered.
Companions as Lords
Edit
Much like native, you can grant fiefs to your companions if you become a King. Some companions will field special, elite troops along with their normal culture troops. All companions start with 1000 renown if turned into vassals.
| | Personality | Social Class | Common Troops | Special Troops |
| --- | --- | --- | --- | --- |
| Adonja | Good-natured | Commoner | Pendor | Mystmountain |
| Alyssa | Bad-tempered | Noble | Empire | - |
| Ansen | Upstanding | Noble | Empire | - |
| Boadice | Martial | Noble | Fierdsvain | Veccavi & Maidens |
| Diev | Good-natured | Commoner | Ravenstern | - |
| Donavan | Martial | Noble | Pendor | Barclay |
| Ediz | Good-natured | Commoner | D'Shar | - |
| Frederick | Calculating | Commoner | Pendor | Mettenheim |
| Julia | Good-natured | Commoner | Empire | - |
| Kassim | Calculating | Noble | D'Shar | - |
| Kaverra | Good-natured | Commoner | Fierdsvain | - |
| Leslie | Good-natured | Commoner | Empire | - |
| Lethaldiran | Calculating | Noble | Pendor | Noldor |
| Riva | Good-natured | Commoner | Sarleon | - |
| Sara | Debauched | Noble | Empire | - |
| Sigismund | Good-natured | Commoner | Fierdsvain | - |
| Sir Alistair | Martial | Noble | Pendor | Order of Eventide |
| Sir Jocelyn | Good-natured | Commoner | Sarleon | Order of the Lion |
| Sir Rayne | Martial | Noble | Pendor | Order of the Falcon |
| Sir Roland | Upstanding | Noble | Pendor | Order of the Dawn |