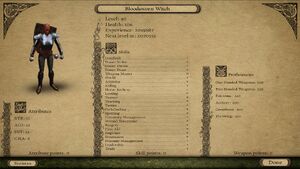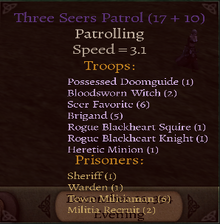 Stats: Lvl 40. Str : 57, Int : 23, Agi : 23, Cha : 9. Hp : 106
1H : 220
2H : 220
Polearms : 220
Archery : 200
CrossBows : 100
Throwing : 100
Equipped with Strange Ebony Sabre, Heretic Round Shield or Heretic Kite Shield and a Morning Star.
This troop is found within The Three Seers patrols. This troop cant be knocked unconscious even if the last hit is done by blunt damage.
Skills: Ironflesh 7, Power Strike 6, Power Throw 6, Power Draw 6, Shield 5, Athletics 6, Riding 7, Horse Archery 7, Tactics 6.
Ad blocker interference detected!
Wikia is a free-to-use site that makes money from advertising. We have a modified experience for viewers using ad blockers

Wikia is not accessible if you've made further modifications. Remove the custom ad blocker rule(s) and the page will load as expected.